We are proud to be the official North American partners of a new artistic initiative spanning three continents and celebrating Greece and its people, history and art at a new level.
Greek Fringe is a creative digital effort involving five cities — Sydney, Melbourne, Nicosia, New York and Athens. The festival attracts diverse talent and seeks to promote and celebrate contemporary Greek culture, which can often be overshadowed by a glorified notion of the past.
Using the slogan "Claiming the now," Greek Fringe shifts beyond the folkloric representation of migration to explore the modern Greek diaspora and dynamic arts scene of mother Greece, which has emerged as a hub of creativity and innovation due to a financial crisis.
Greek Fringe is all about unveiling independent artists who are not afforded the attention they deserve. The festival's mission is to curate events that do just that.
The first-ever Greek Fringe event took place digitally on August 28 and featured two award-winning creative forces from Australia and Cyprus.
Follow the Greek America Foundation's social media on Facebook, Twitter and Instagram for updates about Greek Fringe's regular programming. Upcoming events could include cities such as Melbourne, Sydney, New York, Nicosia, Athens — and beyond!
Are you an artist? Take part in the movement!
What is Greek Fringe looking for? The group is after work that represents the experience of modern Hellenic diversity from emerging artists and creatives not just in Australia, but also those living abroad who can participate digitally.
Greek Fringe is broad, inclusive and open to all types of media. They give preference to work that: Represents the experience of the modern Hellenic diversity; is new, surprising, subversive, inventive and different and uses traditional elements in unconventional ways.
How to apply
Check out the Greek Fringe website for more information about what they do. Click here to complete the application.
The creative minds behind Greek Fringe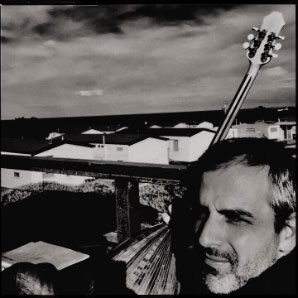 Greek Fringe is the brainchild of Melbourne and Sydney-based musicians and event producers Christina Bacchiella and Con Kalamaras. The duo worked together on the Melbourne Rebetiko Festival and have since co-produced various online vocal workshops with singers from Greece and Cyprus.
Kalamaras and Bacchiella originally planned on hosting their inaugural event in-person, but due to the COVID-19 pandemic they were forced to pivot to a digital format
"We see the need for us to adapt and use the technology at hand as a great opportunity – a shrinking of the world where physical boundaries are no longer prohibitive," Kalamaras said. "We can feature anyone, anywhere in a digital capacity and this is one positive that has come from the tricky situation we find ourselves in."
Kalamaras said this initiative is critical in keeping up with Greece's modern art scene and diaspora culture.
"As humans evolve, so too does language, culture and influence," he said. "If we don't engage with the evolving artscape of Greece and communities abroad, the risk is that Greek culture becomes stagnant and obsolete."
Bacchiella said Greek Fringe intends to appeal to all people who appreciate modern art and culture — regardless of their heritage.
"Greek Fringe is all about unveiling independent artists who are not afforded the attention they deserve," she said. "Our mission is to curate events that do just that."